Publishing date:
This article was originally published: October 6 2012
It may therefore be that some links do not work anymore.
History:
The first rumours about this radio were in the spring of 2010.
There was a Dutch shop that announced this radio available in the Netherlands in March 2010. The expected price was 129,- Euros (2010).
Wouxun KG-UV920R
Lange tijd zijn er geruchten geweest over een Wouxun VHF/UHF mobile transceiver.
Het schijnt nu echter zo te zijn dat deze radio in Maart wordt uitgeleverd aan de winkels.
Er zijn twee winkels, voor zo ver ik kon ontdekken, die deze radio aanbieden.
Dat zijn: (2012) www.bamiporto.nl en RYS Electronics en RYS verwacht dat de prijs 129,- Euro zal zijn, hoewel die prijs wel niet haalbaar zal zijn, andere zullen wel volgen.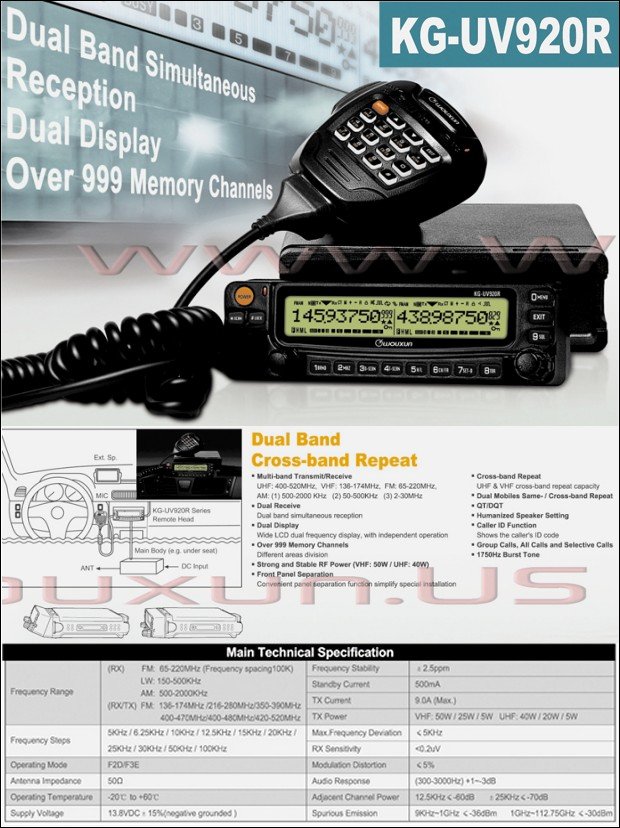 Source: www.wouxun.us
A few specifications (2010):
TX/RX: UHF: 400-520 MHz, VHF: 136-174 MHz
RX: FM: 65-220 MHz (Wide/Narrow), AM (1): 500-2000 KHz, AM (2): 50-500KHz, AM (3): 2-30 MHz
Simultaneous Dual band Receive
Cross-band Repeat
Dual Display
VHF Power: 50W / 20W / 5W
UHF Power: 40W / 20W / 5W
Over 999 Memory Channels