Publishing date:
This article was originally published: March 1 2014
It may therefore be that some links do not work anymore.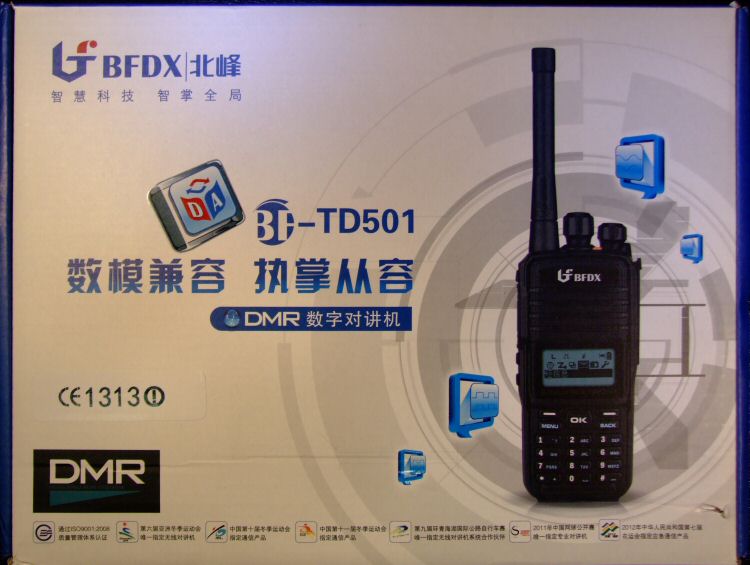 BF-TD501:
This radio is built in China and comes from Fujian Beifeng Telecom Technology Co., Ltd. firm with the trademark name: BFDX.
The BF-TD501 support DMR Tier 2 and FM modulation but doesn't support CTCSS / DCS, so the radio is not usable with FM repeaters.
The selling price of this radio is a bit of a mystery.
I was told that the selling price of the radio without additional costs (duties, tax) is about 150 Euro.
However, must you pay import duties and taxes etc, then radio will be just above 200 Euro.
But this is still very cheap for Dutch standards (March 2014: now just 99 Euro).
First impression:
Solidly built radio, the display is a bit on the small side and has four lines, of which 3 with text.
The RX sound quality is pretty decent, maybe even very good.
The intelligibility is excellent with a very clear sound.
The TX sound is also very crisp, according to the stations that I worked.
Technical review:
For a technical review we have to wait, PDØAC will do an technical review on his blog.
FM modulation:
This radio has also an FM mode, but unfortunately no CTCSS, so you can not use a FM repeater that is equipped with CTCSS.
Squelch: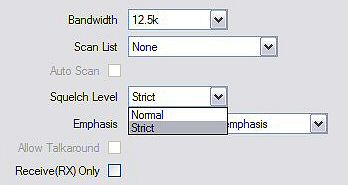 It seems that there is a problem with the squelch in the FM mode.
There are only two settings in the software for the squelch in FM mode, Normal and Strict.
I do not know what either menu settings do, I don't have the manual, but no matter what I set, the squelch doesn't work properly.
The squelch threshold is too low so that it remains almost constantly open.
This is an exemplary case?
The fact is that it is very annoying, listen to FM frequencies is practically impossible.  Hopefully there will be in the future a software update, so that the squelch problem is solved.
Downloads:
Another problem is that the software (and updates) is not available on the Internet.
Firmware updates, as with other brands, are not available (yet).
We have searched the internet for a while, but even the manual is not there.
Therefore, I would recommend to the manufacturer to resolve this problem, so that the software etc. can be downloaded.
Manual:
The BF-TD501 original manual can be downloaded here: BFDX BF-TD501 manual
DMR Audio:
Edwin PDØEDY made ​​a recording of a DMR broadcast I did as a test with the BF-TD501 radio.
Click the play button to start playback.

Conclusion:
After using this DMR radio for more then a week I must say that it works pretty good with DMR.
Positive:
The received audio is clear and sounding good, the reports on TX are also very good, a clearly audible sound.
Good FM audio.
The radio is solidly built with a reasonable display.
Receiving all day long and transmitting a few times a day the battery will lasts at least for 2 days.
Negative:
You can't use the radio on CTCSS FM repeaters because the radio has no CTCSS.
Although the FM audio is good, the squelch does not work properly and is barely adjustable in the software.
There is no comprehensive and useful manual, some features are only available with keywords and not described.
No software or manual on the Internet.
So if you use the radio only as a DMR radio the this is a good contender.
The price of the radio is in Europe with around 200 Euros probably cheaper as in the US.
Update January 2017:
It is now possible to use a BrandMeister codeplug for this DMR Radio.
An example can be found at: HAMDigitaal.nl
Specifications:
You can view the technical specifications from the BFDX BF-TD501 in a PDF file, see here: BF-TD501 Specs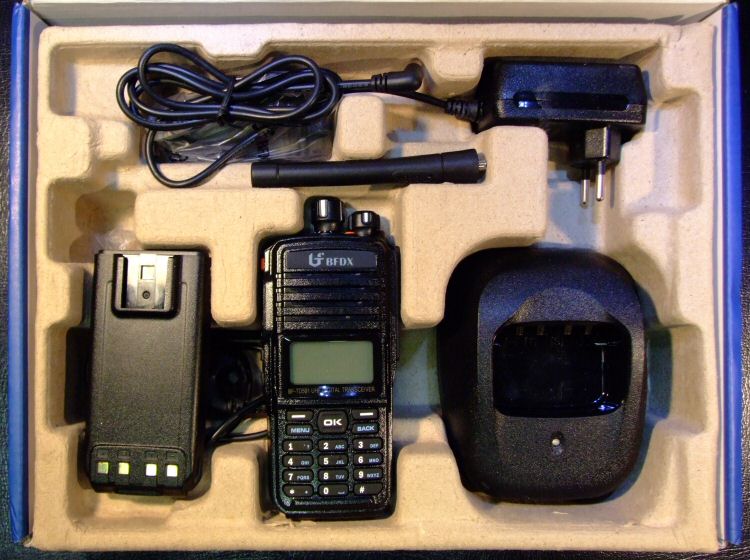 Inside the box.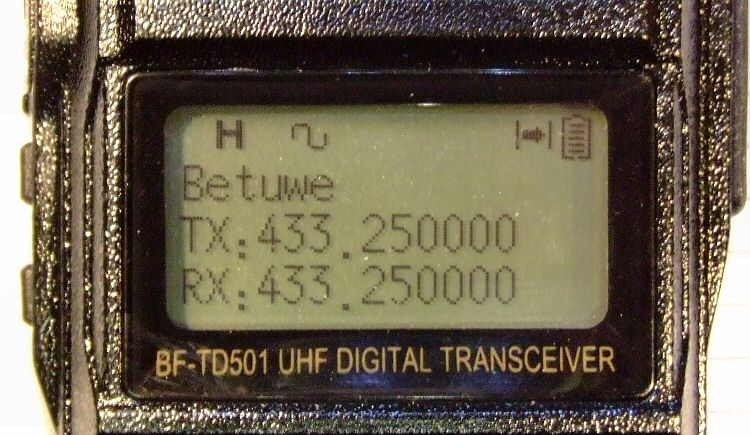 The display is a bit on the small side.
Thanks:
Speciale dank aan Pascal PA1PAS voor het beschikbaar stellen van deze radio.
Zonder zijn medewerking had ik dit artikel niet kunnen schrijven.
Special thanks to Pascal PA1PAS for providing this radio.
Without his help I could not write this article.
I maintain this website partly in English.
Please bear in mind that English is not my native language, so mistakes are inevitable.