Publishing date:
This article was originally published: September 17 2013
It may therefore be that some links do not work anymore.
Info:
This notice is in the Dutch language because this is only intended for the Dutch amateurs.
The message is about toys whose small battery-powered motors interfere in the digital TV reception.
Storing:
Onlangs heeft Albert Heijn, in het kader van de AH Keukenmini actie, een speelgoed Magnetron en Mixer op de markt gebracht.
Het blijkt dat dit speelgoed enorme storing veroorzaakt in de ontvangst van onder andere het Digitenne signaal.
Het storende signaal is zo sterk, dat het niet uit maakt of het speelgoed nu in de huiskamer, op de tweede etage gelegen kinderslaapkamer of zolder wordt gebruikt.
Daarnaast werd ook de ontvangst van het Digitenne signaal van de buren weggedrukt.
Zij ondervinden storing op hun televisie ontvangst als de kinderen het speelgoed gebruiken.
Ook op de spectrumanalyzer is eveneens te zien dat het speelgoed een grote vorm van storing cq rommel weergeeft op de diverse frequenties.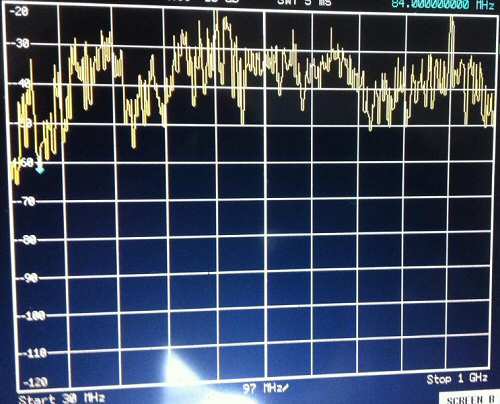 Zoals u op de foto van de spectrum-analyzer kunt zien, is het storende signaal extreem breed, van zo'n 30 MHz tot 1 GHz!
Hieronder twee video's met de veroorzaakte storing duidelijk zichtbaar.
Copyright: Video's and Photo – PA2OLD 2013 ©