Publishing date:
This article was originally published: February 20 2016
It may therefore be that some links do not work anymore.
Info:
This notice is in the Dutch language because this is only intended for the Dutch amateurs and is about the new administration of the department of Arnhem of the Society of Experimental Radio Research Netherlands.
Nieuw bestuur AØ6:
Gisteren, 19 februari 2016, is in de jaarlijkse huishoudelijke vergadering van de afdeling Arnhem van de Veron een geheel nieuw bestuur aangetreden.
Het nieuwe bestuur bestaan nu uit: Cor PDØGHF – Voorzitter, Wilko PA1WBU – Secretaris en Piet PE1DSC – Penningmeester.
Cor was al waarnemend voorzitter na het overlijden van Frans PA3BPT.
Aftredend:
De aftredende bestuursleden zijn Ton PA3FHM – Secretaris en Hans PA2HGD – Penningmeester. De beide heren werden voor hun goede werk en de vele jaren dat zij dit deden uitvoerig in het zonnetje gezet.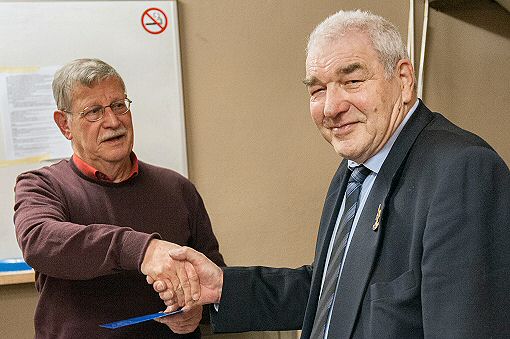 Bron foto: PA1WBU – beide aftredende heren, links Ton PA3FHM en rechts Hans PA2HGD.
Gouden Speld:
Bij binnenkomst in het Arnhemse clubhonk bleek dat Remy Denker PA3AGF voorzitter van de Veron toevallig aanwezig was, met het verhaal dat zijn vrouw in Elst moest wezen.
Maar de ware reden was natuurlijk een hele andere!
Remy Denker was speciaal gekomen, voor het uitreiken van een Gouden Speld aan de aftredende Secretaris Ton PA3FHM, die hij kreeg voor zijn jarenlange inzet als Secretaris van de afdeling Arnhem!
Hans PA2HGD had al een Gouden Speld en zo zaten er ineens twee Gouden Speld dragers achter de bestuurstafel.
De beide aftredende heren werden nogmaals met een luid applaus en bloemen bedankt.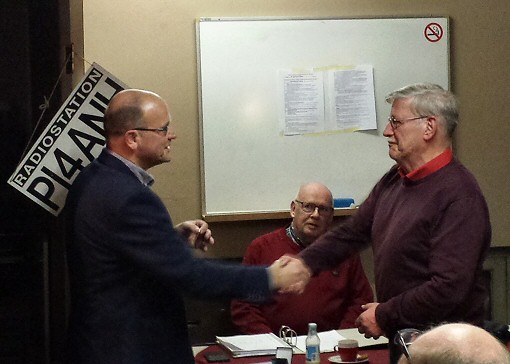 Bron foto: Pa2OLD – Links Remy Denker PA3AGF, midden Cor PDØGHF en rechts Ton PA3FHM.