Publishing date:
This article was originally published: August 7 2011
It may therefore be that some links do not work anymore.
V2000:
Since May 2011 I have a Diamond V2000 antenna, a vertical for the 70 cm, the 2 meter and 6 meter band. This antenna was in 2011 as a test on a makeshift mast of 6 meters in a concrete base in the garden. Ultimately, this antenna went on the roof in the spring of 2012 and now stands there with a top height of 15 meters.
Sinds mei 2011 heb ik een V2000 van Diamond, een vertical voor de 70 cm, de 2 meter en de 6 meter band.
Dit antenne stond in 2011 als een test op een provisorische mast van 6 meter in een betonnen voet in de tuin.
Uiteindelijk ging dit antenne in het voorjaar van 2012 het dak op en staat daar nu met een top hoogte van zo'n 15 meter.
Diamond V2000: base vertical antenna for the 50/144/430MHz (6m/2m/70cm) bands.
Gain:2.15dBi (50-52MHz), 6.2dB (144MHz), 8.4dB (430MHz)
Max. power rating: 150W (Total)
Impedance/Impedantie: 50 Ohms
VSWR: Less than/Minder dan 1.5:1
Length/Lengte: 2.5m
Radial Length/Lengte: approx. 92cm
Gewicht: 1.2kg
Rated wind speed/snelheid: 50m/sec.
Mast diameter montage: 30mm to 62mm
Connector: PL-259
Type: 1/2wave C-Load (50MHz), 2×5/8wave C-Load (144MHz), 4×5/8wave C-Load (430MHz)
Radialen:
This antenna has original three radials, two short radials of about 50 cm and one radial that is longer, with a coil at the beginning of the radial for the 6 meter band.
Now there are various treatises on the internet to read about replacing the original radial, by 3 longer radials from about 145 to 150 cm.
With this new radials the V2000 is a full size groundplane antenna for the 6 meter band, while the changes have no effect on 70 cm and 2 meter band.
Dit antenne heeft 3 radialen, 2 korte van een centimeter of 50 en een langere met een spoel aan het begin die voor de 6 meter band is.
Nu zijn er op de verschillende forums en op websites verhandelingen te lezen over het vervangen van de 3 radialen door 3 lange van
145 of 150 centimeter. Er ontstaan dan een groundplane antenne voor de 6 meter band terwijl dat op 70 cm en de 2 meter band antennes geen invloed zou hebben.
Hardware:
Omdat ik geen draaibank o.d. bezit, heb iets anders bedacht.
Na een bezoek aan de Gamma, heb ik nu een M5 draad of tap einde van 1 meter, een aantal M5 moertjes en Messing pluggen M5.
De aluminium pijpjes zijn 8 en 6 mm buitenmaats, de 6 mm past in het 8 mm pijpje.
De messing busjes met M5 draad erin passen zonder problemen in de 6 mm pijpje, even met een tang of desnoods een hamer aan tikken.
Dan de draadeinde erin vast draaien, de messing bus zet aan het uiteinde uit en komt zo muurvast te zitten in het 6 mm pijpje.
Voor de zekerheid heb ik er voorzichtig nog een druppeltje superlijm in laten lopen (niet op de schroefdraad) maar dat lijkt me geheel niet nodig. Hier komt geen draaibank aan te pas en zelfs geen bankschroef.
Zie de foto's hier onder.
Update August 2011:
De radialen zijn klaar en inmiddels geplaatst, ik zal nog met antenne in de tuin de 3 banden testen. Ik heb met een MFJ antenne-analyzer de V2000 in de originele staat gemeten en zal de resultaten met de nieuwe radialen vergelijken. Uiteraard zal ik hier nog van berichten.
De eerste testen vallen niet tegen. Een vergelijk tussen de originele en de nieuwe radialen gaf een verbetering van 4 S punten in de 6 meter band, getest met het zelfde tegenstation. Op de 2 meter en 70 cm band is er geen verschil, behalve dan dat de SWR op 2 meter iets beter is. Een verklaring daarvoor heb ik niet.
Update december 10 2013:
The Dutch Ham news site Hamnieuws reports that the German Ham shop WiMo now sells full size radials for the Diamond V2000!
So if you don't want to build these radials your self, go for it at the WiMo shop.
Photos, construction of the radials: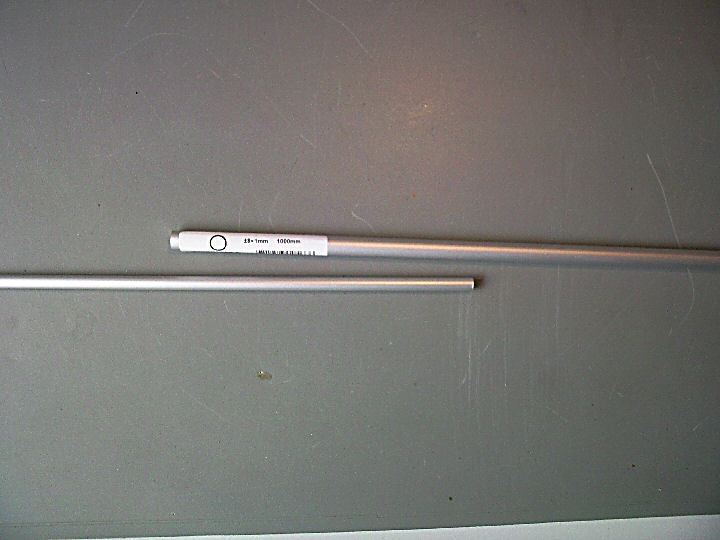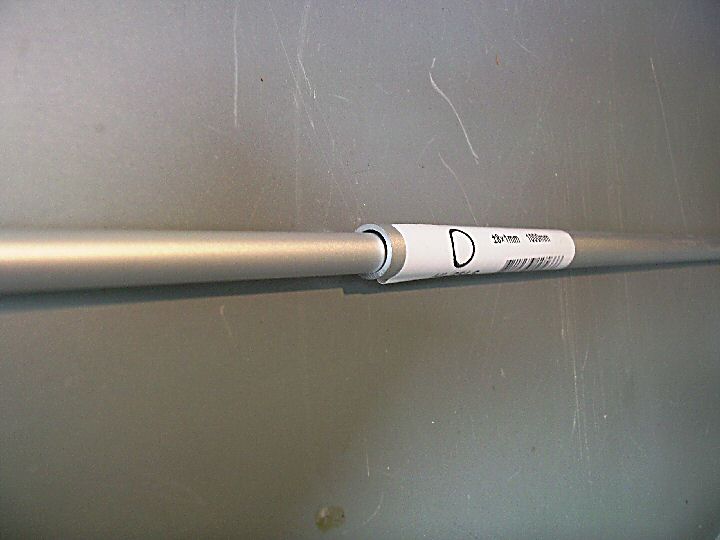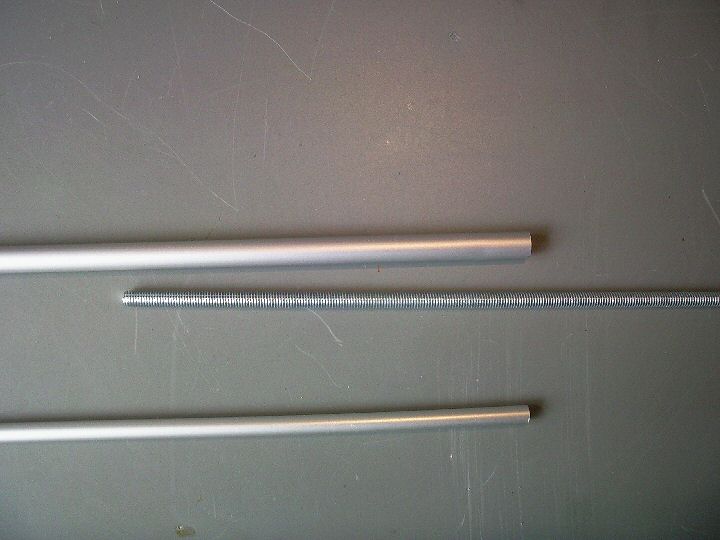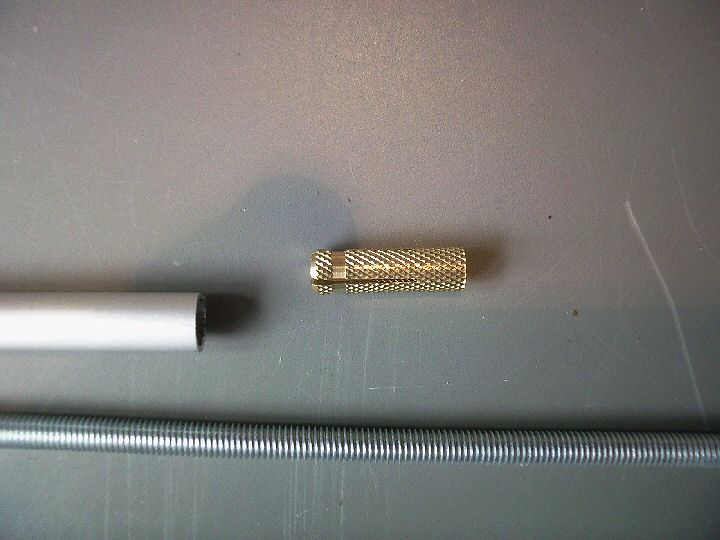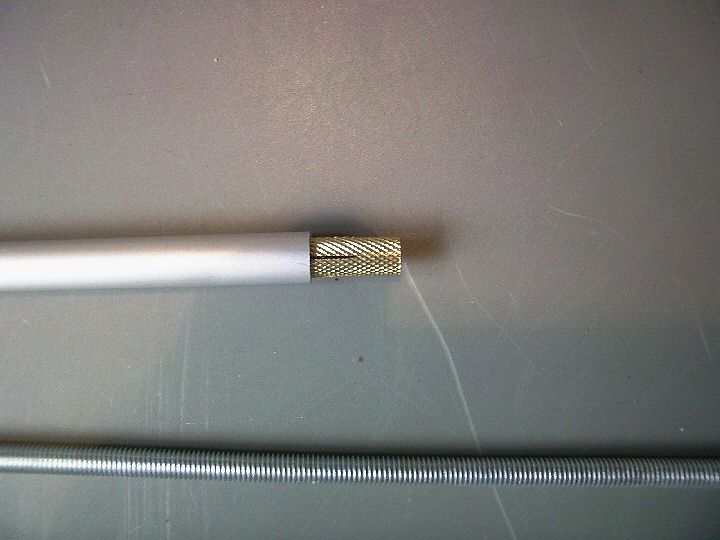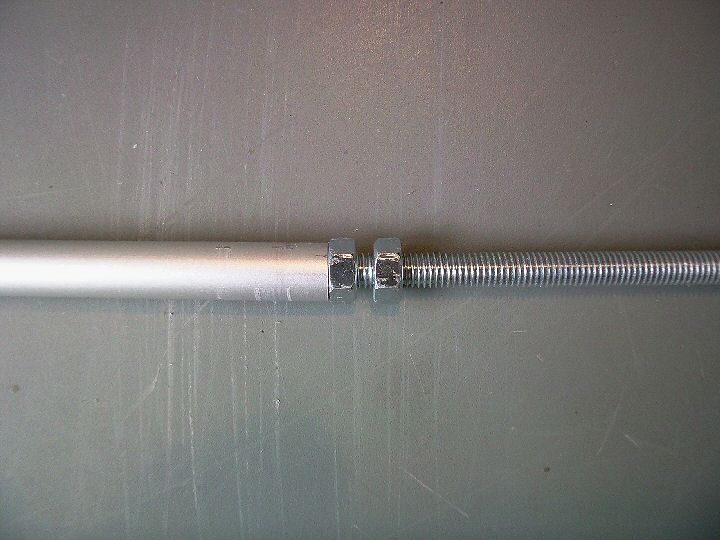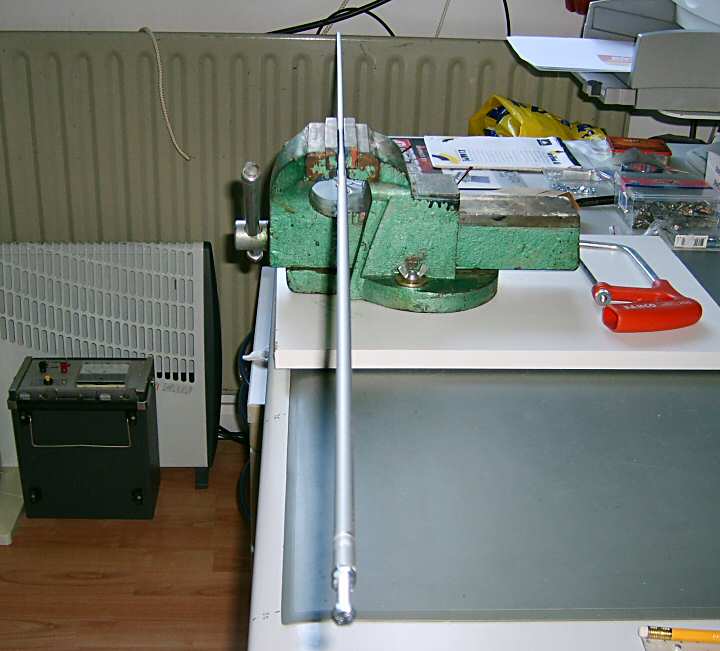 Een Radiaal geheel in elkaar gezet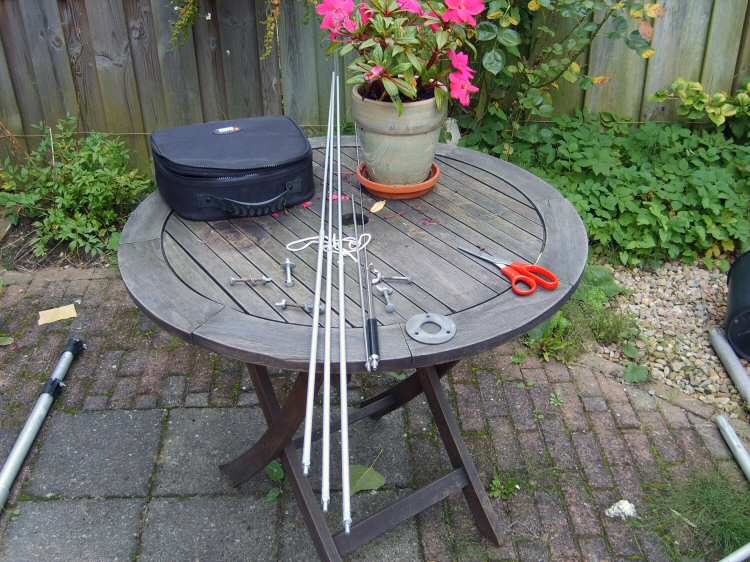 Klaar voor montage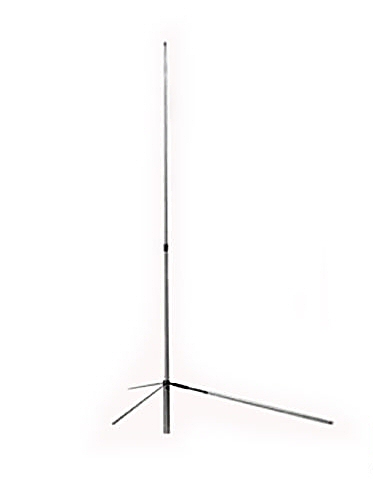 The Diamond V200 with original radials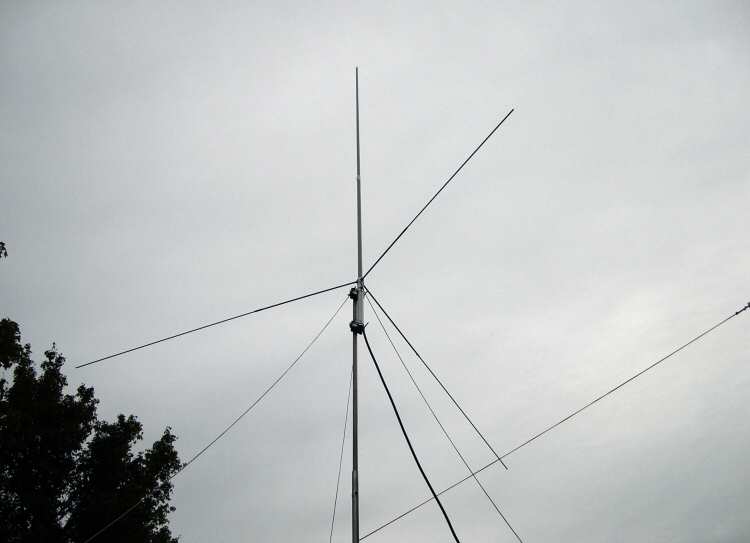 Radialen 6 meter band mounted