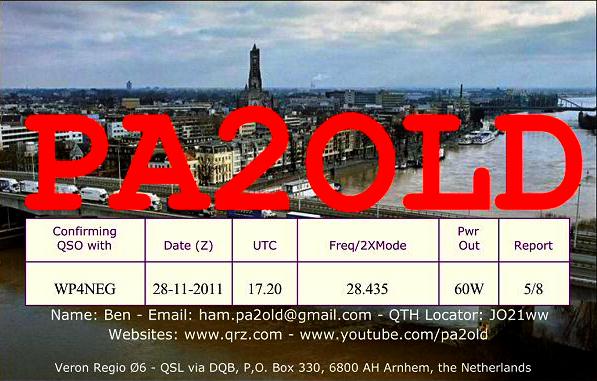 QSL kaart, bevestigingskaart van radio-contact met een Amerikaanse Radio Amateur.

Radiohobby:
Na vele jaren (13 jaar) niets aan de radio hobby te hebben gedaan, ben ik sinds maart 2011 weer QRV zoals dat in de radioamateur taal heet.
Al in 1982 deed ik examen in Utrecht om de amateur licentie te bemachtigen.
Radio-licentie:
Radio- en digitale techniek, Wetskennis en specifieke radioamateur regelgevingen die je moet weten zitten in zo'n examen en destijds werd dat door de Staat afgenomen.
De Staat geeft je dan na het behalen van het examen de zogenaamde roepletters ook wel call genoemd. Call, omdat in de radioamateurwereld bijna alles in het Engels gaat.
Mijn roepletters zijn PA2OLD en als je die intypt bij Google zul je mij al snel vinden.
Die call's of roepletters zijn internationaal bekend en zo kan je bijv. bij een Amerikaanse zoekwebsite voor amateurs mijn roepletters invoeren en dan komt alles wat er te vinden is tevoorschijn, zoals adres naam enz. Probeer maar eens de website http://hamcall.net/call en type in 'Look up callsign' PA2OLD. Elk land heeft toegewezen letter combinaties, zo beginnen roepletters in Nederland altijd met een P, Duitsland met een D en Italië met een I en België met ON.
Dure hobby:
Het is best een dure hobby, de radio zendapparatuur, antennes, speciale kabels en meet en regel apparatuur zijn prijzig. Variërend van 100 euro voor een klein portofoontje tot zo'n 15.000 euro voor de Rolls Royce onder de zendontvangers. Ook antennes kunnen er qua prijs 'flink inhakken' van 100 euro tot vele duizenden voor grote richtantennes en vakwerk masten. Maar als je dan een verbinding hebt gemaakt en een gesprek hebt gevoerd met bijv. een amateur in Kuala Lumpur Azië geeft dat wel een kick!
Vroeger:
Vroeger was zelfbouw van radioapparaten heel gewoon maar tegenwoordig is dat bijna niet meer te doen. De kosten wegen vaak niet op tegen de radio's die je kan kopen, maar sommige amateurs vinden het nog steeds leuk om zelf te bouwen. Op het antenne vlak is nog wel leuk te experimenteren en dat doe ik dan ook. Soms voor heel weinig geld, een paar euro met vaak uitzonderlijke resultaten. Grote antennes kosten meer maar bijna altijd maar een schijntje van wat de koop antennes kosten.
Computers:
Ik werk graag aan en met computers en het leuke van de 'moderne radio communicatie' is dat je de computer kan koppelen aan de radio zendapparatuur. Je kan tegenwoordig allerlei digitale radio-verbindingen maken met de gehele wereld en dat met slechts 5 watt zendvermogen. Er is zelfs een digitale mode waarbij je met 1 watt gehoord kan worden in New Zeeland of Australië. Maar het meest gebruikelijke en leukste is spraak waarbij je allerlei interessante gegevens kan uitwisselen over het weer, het land en radioamateur
waarmee je spreekt. Een uitgebreid netwerk van relaisstations (ook wel repeater genoemd) liggen over geheel Europa zodat je ook
rijdend in je auto of met een portofoon verbindingen kunt maken.
Interessant:
Een veelzijdige hobby die je verbind met de wereld, je bezig houd met techniek en computers!
Meer weten? Kijk eens verder op mijn website: www.pa2old.nl
Ook U bent een beetje radioamateur, denk maar eens aan de mobile telefoon die u heeft. 😉