Publishing date:
This article was originally published: November 22 2013
Technical review:
For a technical review visit the website of Hans PDØAC at: Review Polmar DB-50M / Powerwerx DB-750X
Ik werk nu al een tijdje met de Polmar DB-50M en vond het tijd eens wat te schrijven over deze radio.
Het is een dualband radio met tegelijkertijd ontvangst in de 70 cm en 2 meter band en daar maak ik natuurlijk gebruik van.
Zo kan ik op beide banden luisteren naar twee 'huis' frequenties, in de 70 cm band en de 2 meter band.
TX sound:
De radio heeft standaard een wat doffe modulatie bij gebruik van de originele microfoon.
Daar is echter een oplossing voor, zie hieronder bij: Microphone Modification.
De originele micro is echter wel handig in gebruik en heeft bovendien 4 programmeerbare knoppen.
Click sound:
Verder bemerk ik een stevig klik geluid als je met het A VFO (2 meter band) gaat zenden en op het B VFO (70 cm band) is er ontvangst van een station.
Dit tik of klik geluid is enigszins irritant maar zo gauw er geen ontvangst is op VFO B dan is VFO A weer tik vrij.
Volume:
Het volume probleem, waar sommige in Azië gemaakte radio's last van hebben (kan niet heel zacht) was me bekend, maar dat vind ik zelf helemaal geen probleem, het geluid is zacht genoeg en niet storend in de shack.
Volgens Robert PC5E speelt het volumeprobleem al helemaal niet als je alleen de speakermicrofoon gebruikt, die is zachter dan de interne luidspreker en heeft wel een goed regelbereik.
Heat problem:
Enigszins lastig is dat de radio, als je 20 watt of meer gebruikt, flink heet wordt.
Zelfs als de ventilator, die achter op het koelblok zit, al volop draait.
Dus ik heb al heel snel een extra ventilator bovenop de radio geplaatst die altijd draait en praktisch onhoorbaar is.
Het is nu een 6 x 6 cm ventilator maar ik ben van plan er een 12 x 12 cm versie op te plaatsen (zie foto's hieronder).
Probleem was de hoogte van zo'n ventilator maar ik heb er nu een gevonden die 12 x 12 cm en slechts 12 mm hoog is, zodat ik de ophangbeugel kan blijven gebruiken.
Dat warmte probleem verwachte ik eigenlijk wel.
Ik heb ook een AnyTone AT-588U (dus 70 cm band) die praktisch de zelfde bovenkant heeft, in feite een heel groot koelblok.
Die werd ook enorm warm bij full-power maar met een permanente koeler er bovenop is de radio nu nog maar handwarm te krijgen.
Alinco heeft ook van deze radio's met een bovenkant als een groot koelblok, bijv. de DR-435 en ook die schijnen behoorlijk warm te worden.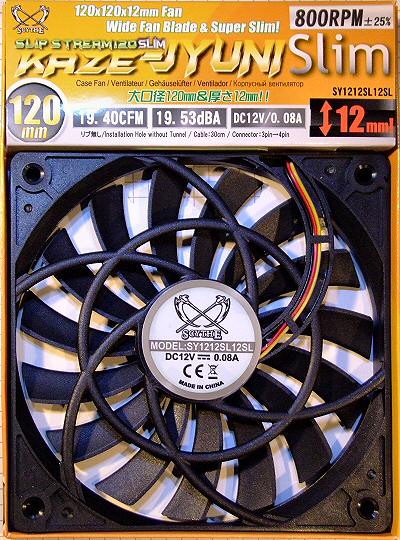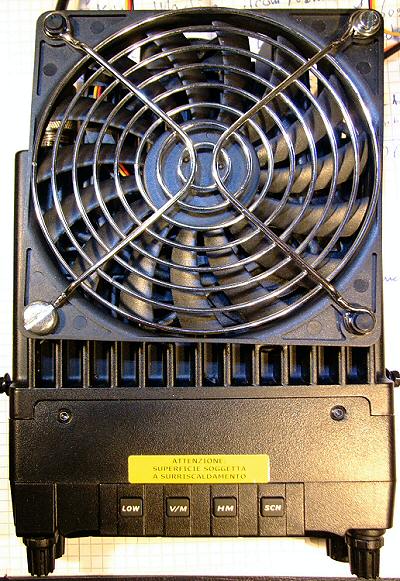 Links: 12X12 cm ventilator in de verpakking verkrijgbaar bij / available at: Conrad slechts € 10,-
Rechts: Gemonteerd op de radio, door de schroefgaten enigszins scheef.
S-Meter:
De S-Meter is me niet geheel duidelijk, het geeft signaal verschillen weer in blokjes.
Volgens Robert PC5E is het per blokje 1 S-punt, dus eerste hoge blokje is S4 en laatste S9.
Speakers:
Volgens de gebruiksaanwijzing is er maar 1 externe speaker aansluiting, maar dat klopt niet.
Beide aansluitingen werken maar de een is harder in audio dan de andere.
Op de tweede uitgang (stereo connector) kan je zo'n computer luidspreker setje met ingebouwde versterker aansluiten, je kan de VFO kant A en B op verschillende speakers beluisteren (moet je wel in het menu instellen).
Met een goede externe luidspreker is de geluidskwaliteit wel veel beter, maar dat is bij de meeste radio's zo.
Crossband:
De crossband functie werkt goed, al hebben we er hier in Nederland niet veel aan (en is geloof ik niet toegestaan door het Agentschap Telecom).
In de crossband mode word de microfoon uitgeschakeld en het lijkt als of de amateur echt op de crossband frequentie werkt.
Andere amateurs hebben niet eens in de gate dat het een crossband verbinding is.
Om de crossband functie te gebruiken moet de radio wel in een andere mode worden opgestart.
De programmeer-software werkt goed en is bruikbaar.
Met de display lichtblauw (niet zoals op de fabrieksfoto's Oranje) ziet de Polmar DB-50M er prima uit.
Gezien de prijs is het een fijn werkende radio die bij mij elke dag van 9 uur tot vaak ver na 24.00 uur aanstaat.
Voor mij beslist geen miskoop!

Polmar DB-50M – PA2OLD 2013
Microphone Modification:
According to Hans – PD0AC the only downside of this radio is the microphone that sounds pretty dull.
He found a solution for this problem, removing a capacitor that sits over the microphone capsule.
In his blog he describes which capacitor must be removed and I also conducted this modification.
Furthermore I have the microphone hole, which is in the plastic casing, slightly enlarged.
The result is sufficient, the modulation is brighter and easier to understand.
For more info see the blog of Hans – PD0AC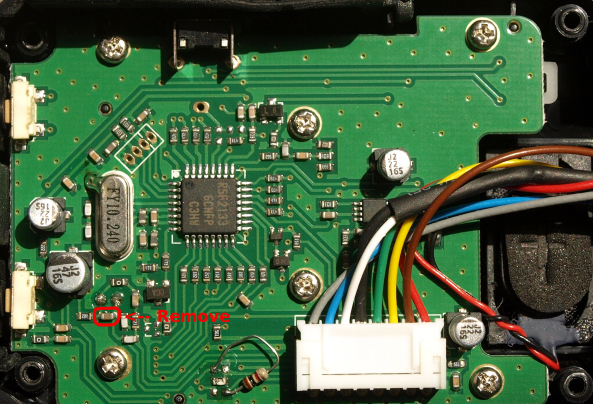 Source Photo and Modification: PD0AC 2013 ©
Software:
The Polmar programming software V1.01 is downloadable at: www.transonic-electronics.nl
Info: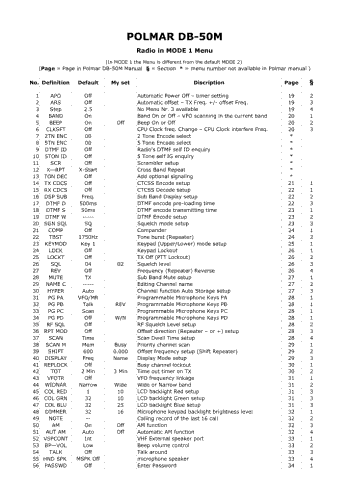 There is a discrepancy between the Mode 1 and Mode 2 of the Polmar DB-50M and Powerwerx DB-750X.
The Polmar radio normally powers-up in Mode 2 which is the European version, and the radio set in Mode 1 is the international version of this radio.
If you want to know how to change the different modes, just write an email.
Menu:
In the standard Mode 2 there is no difference between the menu of the radio and what is written in the Polmar manual.
But if you switch the radio in Mode 1, then the menu will no longer match the Polmar manual. Although it seems that the Polmar is a copy of the Powerwerx DB-750X, there  is also no exact match with the menu of the Powerwerx radio. There is no menu-list in the manual of the Polmar radio (there is a menu list in the manual of the Powerwerx radio) and certainly not of Mode 1.
So I wrote that list of the Mode 1 setting and mentioned on which page you can find the description of the menu-number of the Polmar radio.
You can download the menu list as a PDF here, click on the image on the right side.
KBC: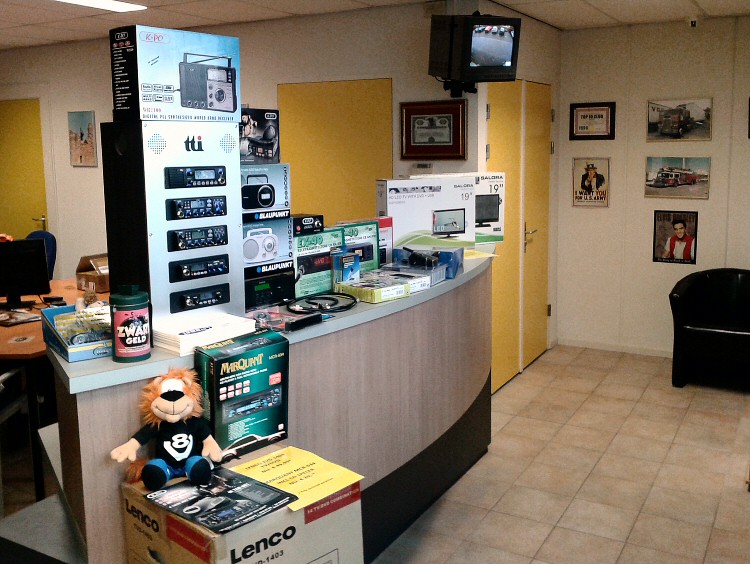 KBC office and shop counter – PA2OLD 2013