Vintage Reel to Reel Recorders
Vintage Reel to Reel Tape Recorder Collection.
Descriptions and more photos follows.
Beschrijvingen en meer foto's volgen.
Te Koop:
Wegens ruimte gebrek heb ik enkele recorders te koop (Prijzen zijn aangepast juni 2016).
Zie de beschrijving onder de foto's.
Serieuze belangstellende kunnen via de email contact opnemen.
De aangeboden recorders kunnen uitsluitend worden opgehaald en contant betaald.
New Recorders:
I have now (November 2011) 3 recorders added to my collection, thanks to a gift of a local colleague radio-amateur.
The recorders are working but the Akai GX270D has a slipping capstan-drive-belt and the Akai Gx365 is missing a knob and has a rumble-like noise in the left channel.
The TEAC A-3300-SX seems to be okay and is working, but after tests we found out that the left Source/Tape switch is not working.
There's also a scraping noise when the tape is running, I hope it's not a bearing.
So I have some work to do, but that's no problem.
The photos are not very good but are just for a quick look.
Ik heb nu 3 recorders toegevoegd (november 2011) aan mijn verzameling, dankzij een plaatselijke collega radio-amateur.
De recorders werken, maar de Akai GX270D heeft een slippende capstan aandrijfriem en de Akai Gx365 mist een knopje en heeft een rumble-achtige ruis in het linker kanaal.
De TEAC A-3300-SX lijkt in orde en werkt, maar na testen kwamen we er achter dat de linker Source/Tape schakelaar niet goed werkt.
Er is ook een schrapend geluid te horen als de tape loopt, ik hoop dat het niet een lager is
De 'tands des tijds' heeft blijkbaar toch toegslagen, 'werk aan de winkel' dus. 😉
De foto's zijn niet erg goed, maar zijn slechts voor een snelle blik bedoeld.
U P D A T E:
The Akai GX-270D has now been completely restored and now works fine!
This recorder has 3 electric motors, 2 for fast forward and rewind and a direct-drive capstan.
De Akai GX-270D is inmiddels geheel hersteld en werkt nu prima!
Het bleek geen aandrijfsnaar te zijn want de machine heeft 3 Direct-Drive motoren, het was veel simpeler de linker spoelenschotel was verschoven op de as en liep aan.
Na afstellen, schoonmaken en het reinigen van enkele schakellaars loopt de recorder weer als een zonnetje, zelfs de electronische afstelling is prima in orde.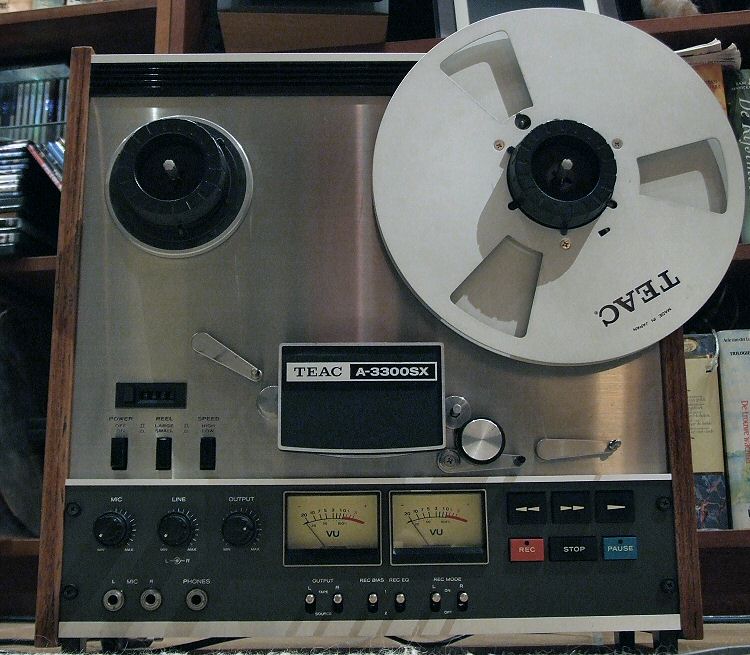 Te Koop zie boven: In redelijke spelende staat, is niet gereviseerd.
Bieden boven de: € 100 (Wordt soms aangeboden voor $300)
Sold – Verkocht.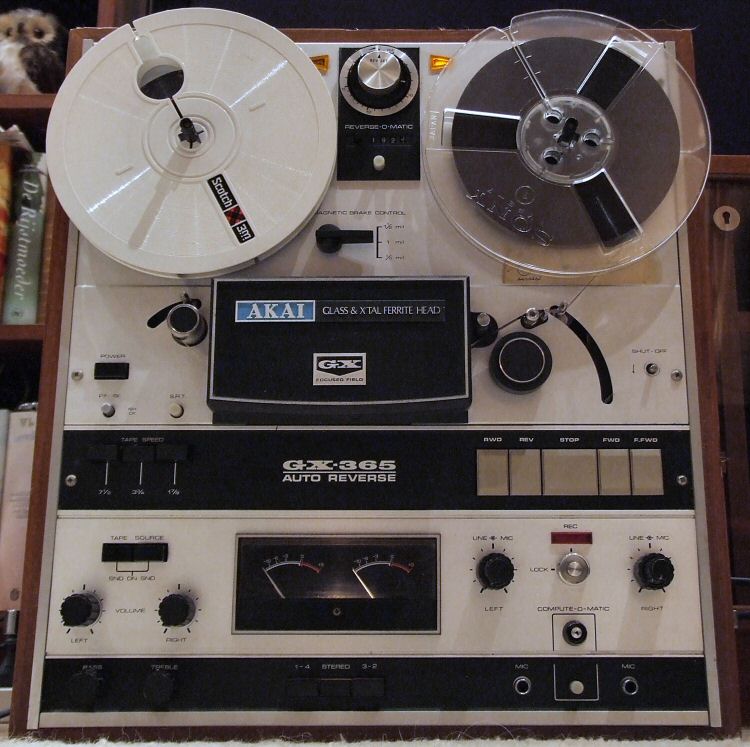 Te Koop zie boven: In redelijke spelende staat, is niet gereviseerd.
Prijs bieden boven de: € 75 (Wordt via Ebay soms aangeboden voor $450)
Sold – Verkocht.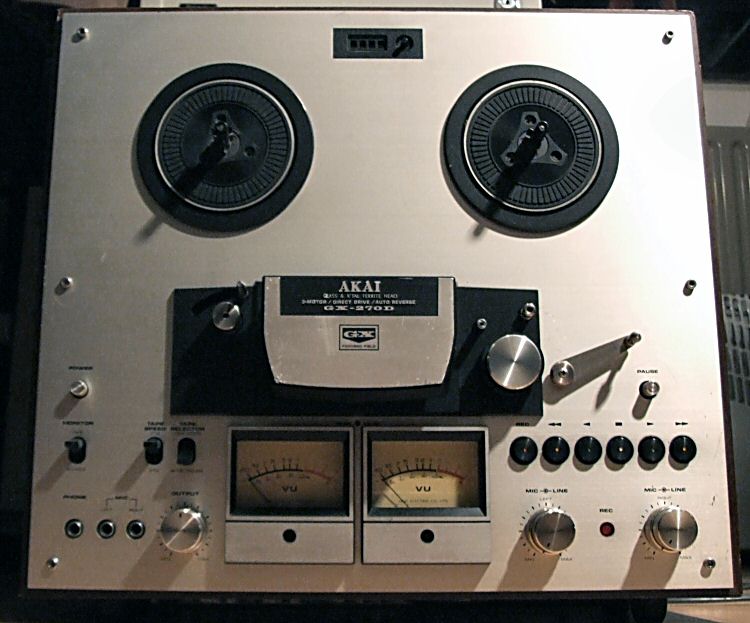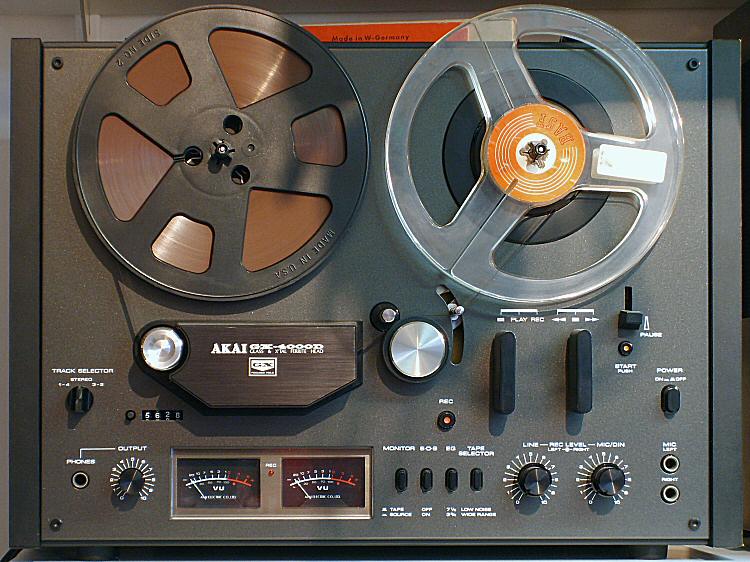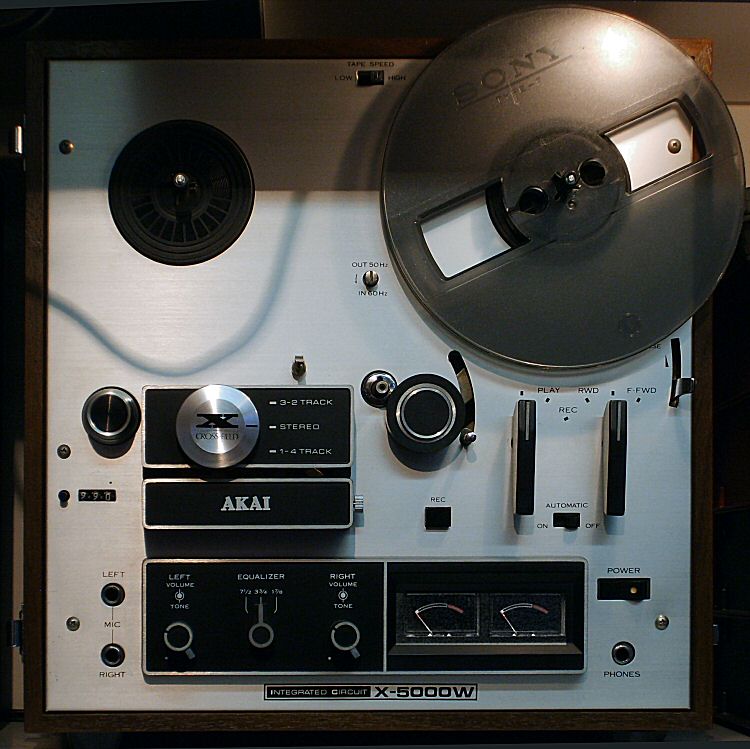 Akai X-5000W build between 1971–1973 – 4 track, 2 heads and
Cross-field Bias system head, 2 channel stereo system.
Tape speed: 1 7/8 ips, 3.75 ips, 7.5 ips – Signal-to-noise ratio: Better than 50 dB
Frequency response: 30 to 22.000 Hz +/- 3 dB @ 7.5 ips
Built-in 2 x 6 Watt amplifier and elliptical speakers. Listed new (USA): $400.00 in 1971.
This recorder is in a fine condition.
Special thanks to Douwe d'Ouwe!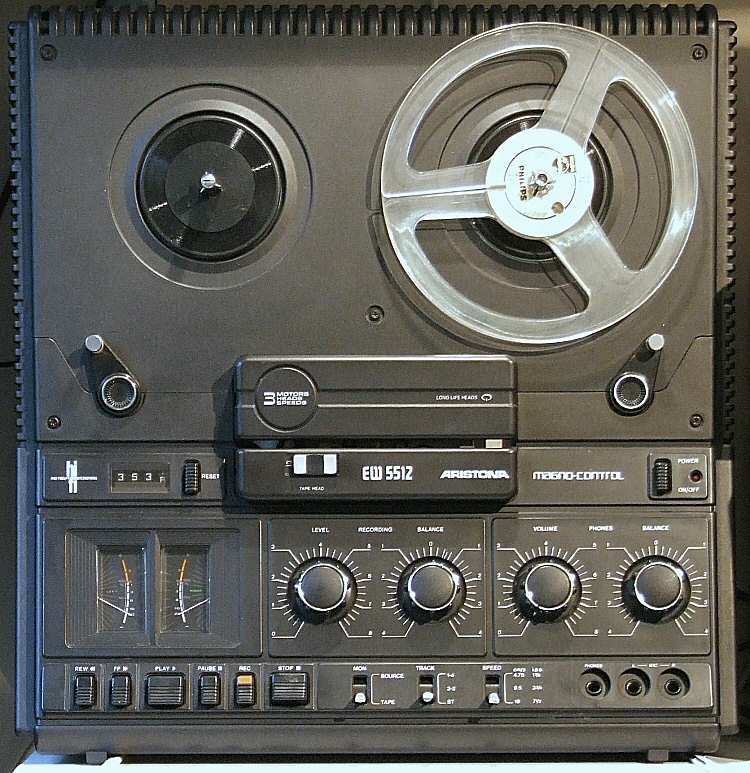 Te Koop zie boven: In prima spelende staat, is gereviseerd.
Nieuwe snaren en in prima staat koppen.
(Power schakelaar stuk, opgelost met een snoerschakelaar)
Prijs bieden vanaf de: € 50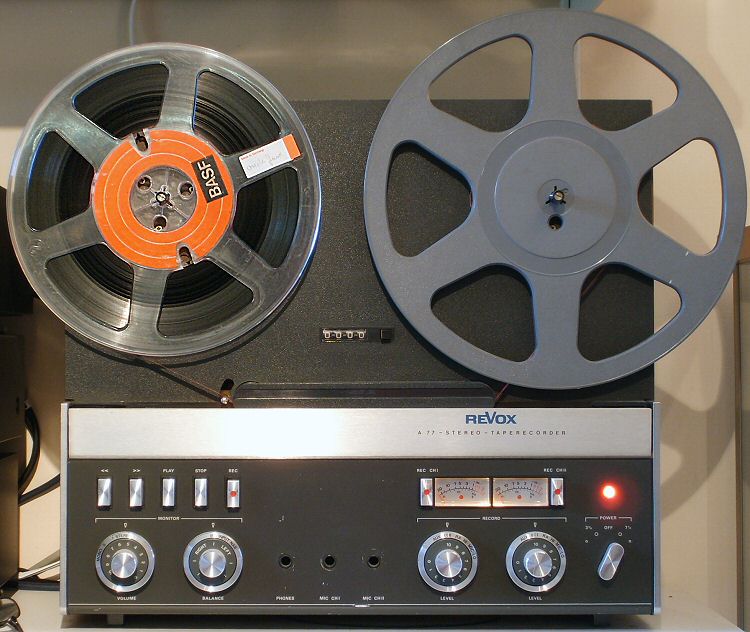 This is a Revox A77 MK IV a 1/2 track stereo 3 heads Recorder.
The Mk 4 was introduced around 1975 and is built entirely in Germany
with the exception of the capstan motor,
which is made at a Studer plant in Switzerland.
Will be overhauled by a Studer expert this year (2021).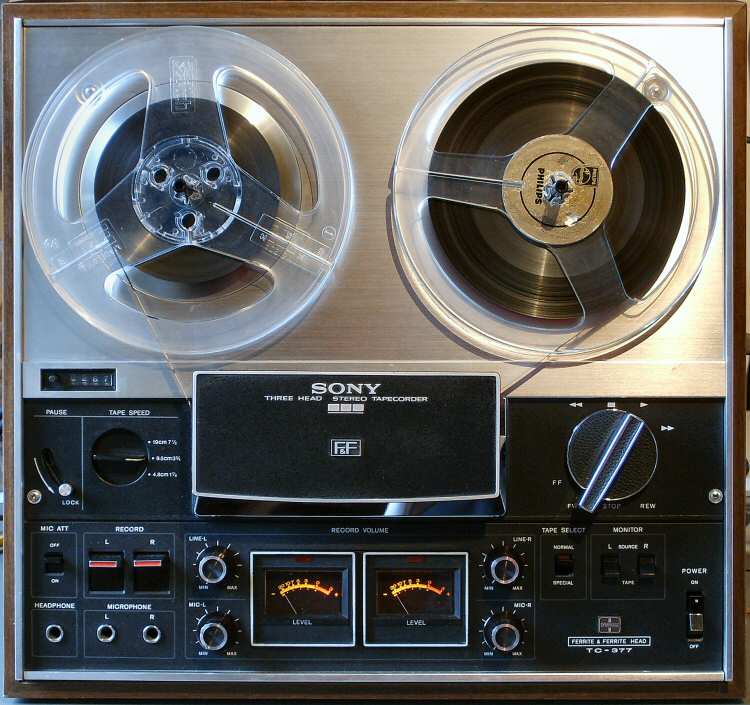 Sony TC-377 build between 1972 and 1975 – 4 track, 3 heads, 2-channel stereo/mono – Tape speed: 1-7/8, 3-3/4 and 7-1/2 – Signal-to-noise ratio: 55dB with high-bias tape
Frequency response: Standard 20-25.000 Hz at 7-1/2 speed and 30-17.000 Hz at 3-3/4 speed.
This recorder is from 1973 and in a fine condition, it just needed cleaning and
the Record and Bias Level needed Adjustment.
Special thanks to Johan de PD1MLB!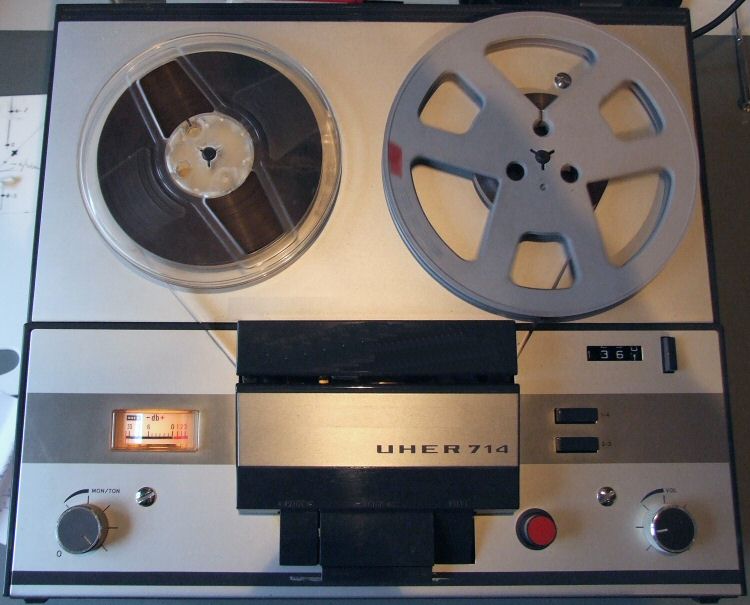 Te Koop zie boven: In spelende staat, is gerepareerd o.a. nieuwe aandrijfsnaar.
Prijs bieden boven de: € 10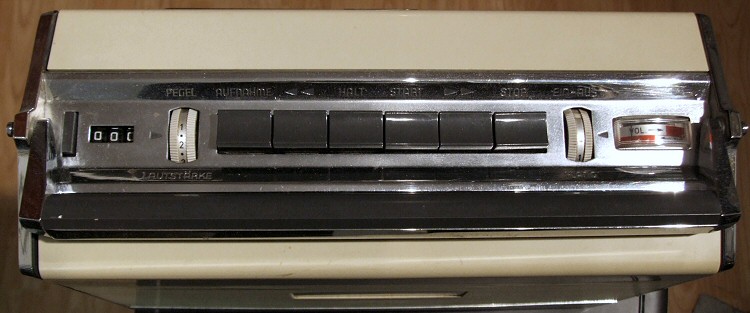 Gründig TK6 Country: Germany Year: 1966 Power: Battery 6 x 1,5 V or AC 110, 220 V Speeds: 4,8 cm/sec and 9,5 cm/sec Reel size: 11 cm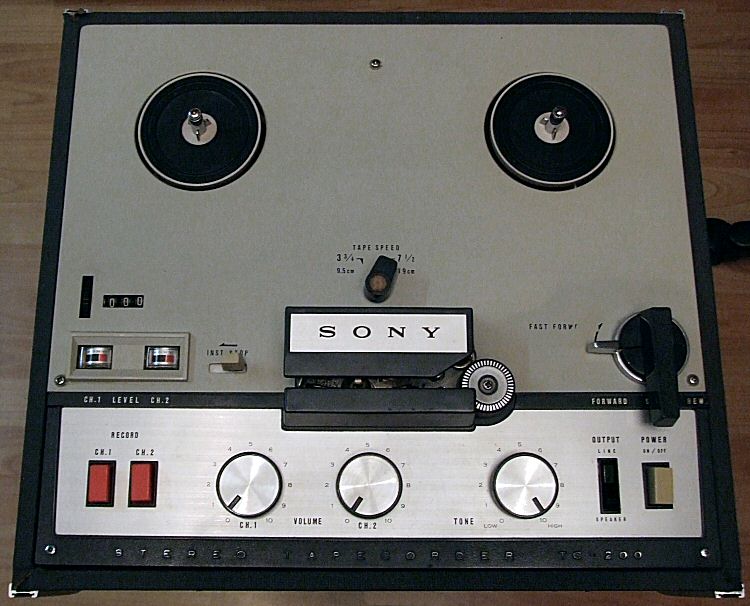 Deze machine is inmiddels afgehaald en niet meer in mijn bezit.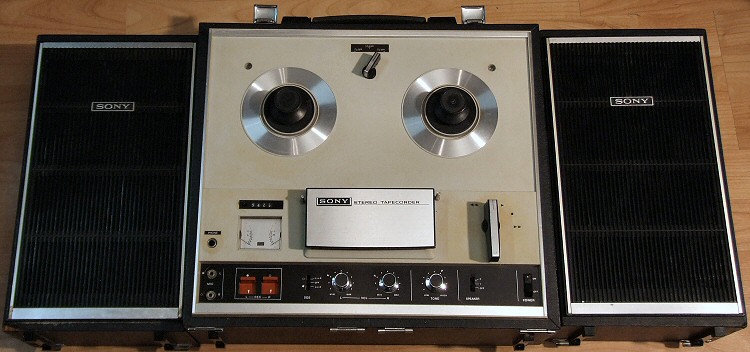 Sony TC-252 between 1969 and 1971(?) – 4 track, 2 heads, 2-channel stereo/mono
Tape speed: 1-7/8, 3-3/4 and 7-1/2
Signal-to-noise ratio: 50dB or more – Frequency response: 30 to 18,000Hz (19 cm/s)
Built-in 2 x 4Watt amplifier.
I bought this recorder in the spring of 1971. In September of that year I took it on a journey
to the USA and returned in June of 1972.
I sold the recorder in 1976 to my brother who used it for many years.
Eventually the recorder went to the attic and after years of storage,
I got back from my brother.
After restoration, that is not completely finished, it works again.
There is over the years damage and wear on the heads and capstan bearing,
but a new set of heads and capstan with new bearing
on the head plate is present and has to be mounted.
Special thanks to my brother Gerard!
Sold – Verkocht!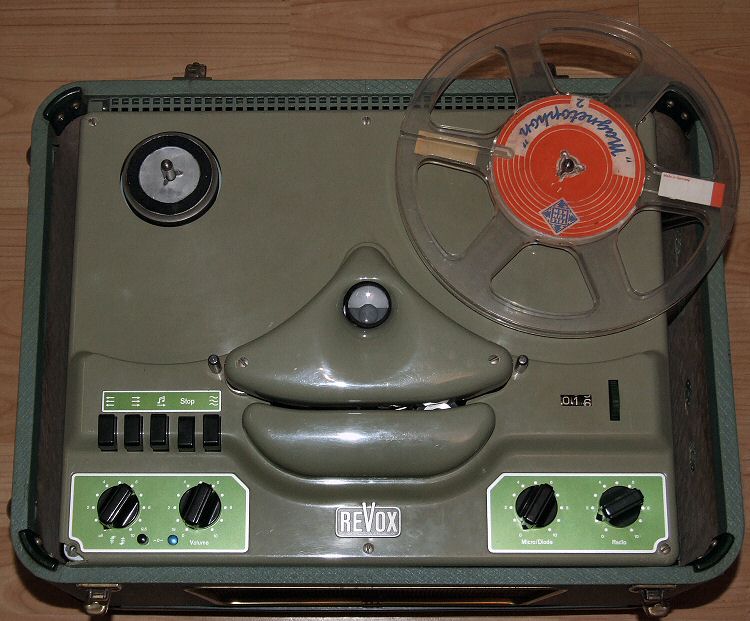 Te Koop zie boven:
The Revox B36 from 1957 became the first tape recorder designed for the amateur but with the performance of a professional machine.
The B36 series had 3 heads, 2 track mono and separate record and reply amplifiers.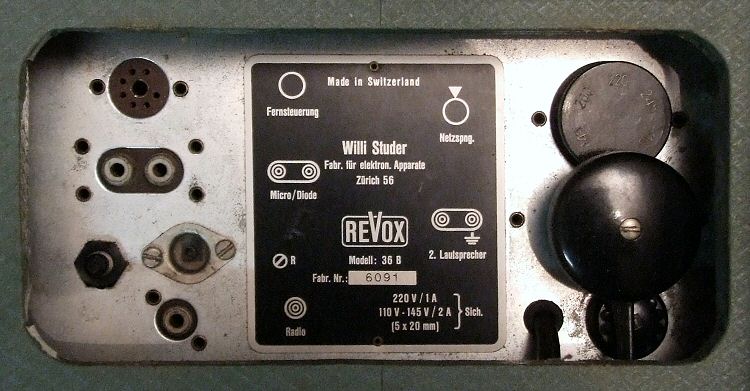 In redelijke staat verkerende Revox B36 uit 1957, de koppen zijn prima, is gereviseerd echter, door een fout in de schakellogica wil de machine niet lopen.
(Zoontje heeft eens te veel knoppen ingedrukt).
Compleet met originele boekjes en Service Manual.
Prijs bieden boven de: € 75 (Wordt via Ebay soms aangeboden voor $300)
Sold – Verkocht.