Publishing date:
This article was originally published: June 16 2012
It may therefore be that some links do not work anymore.
Info:
This notice is in the Dutch language because this is only intended for the Dutch amateur sand is about an important Dutch radio Amateur, Chris the PA5RWE who has passed away.
Chris:
Helaas… Chris de PA5RWE de man met zijn markante stem is niet meer.
Hij overleed in de leeftijd van 51 jaar op 2 juni 2012.
Deze ware VHF/UHF amateur heb ik voor het eerst gesproken vlak voor de eerste ZARR (Zondag Avond Roep Ronde) in het voorjaar van 2011.
Hij viel op door zijn liefde voor deze banden en de moderne ideeën over onze hobby.
Gemis:
Tjonge, wat zullen we Chris gaan missen!
En dat deden we eigenlijk al.
Al die keren dat Chris de ZARR ondersteunde met zijn retour kanaal via Teamspeak 2, of als invallende ronde leider en verder denk ik aan zijn betogen voor de VHF/UHF banden tijdens de ZARR. Maar natuurlijk en vooral Chris als mens. Zijn interesse in de mens en in het bijzonder de jeugd, de lange gesprekken op de radio en de kameraadschap met de mannen van, en zijn tomeloze inzet voor het BAR.
145.2125:
Wat zal het nu stil worden op 145.2125…
145.2125 MHz was zijn uit-luister frequentie en als hij QRV was dan kon je hem daar aanroepen.
Chris was ook de man achter het BAR (Brabants Alternatief Radioamateurnet) en vanaf zijn locatie werd op 145.2125 de BAR ronde uitgezonden. Ik herinner me de keren dat Chris eigenlijk te ziek was om met de ronde mee te doen, maar tijdens de ronde was dat dan niet te horen, alleen zijn stem klonk minder sterk. Maar de ronde moest door gaan!
Ik wens de heren van het BAR (Brabants Alternatief Radioamateurnet) veel sterkte en ga vooral door met het werk, Chris zou niet anders willen!
Uiteraard gecondoleerd aan de familie, vrienden en kennissen en iedereen die Chris heeft gekend.
ZARR Zondag 3 juni 2012:
We hebben in de ZARR 54 van zondag 3 juni Chris herdacht en deze ZARR opdragen aan hem.
Chris was namelijk mede founding-father van de ZARR nu ruim een jaar geleden.
Hoewel het niet gebruikelijk is om op 145.500 Mhz QSO's te voeren zullen we denk ik een uitzondering maken op deze regel.
Iedereen die dat wil kan dan zijn herinnering ophalen aan deze belangrijke amateur.
Jeugd:
Begon niet met Chris te praten over het seinen in combinatie met de jeugd.
Hij had helemaal geen hekel aan deze communicatie mogelijkheid, hij kon zelf prima seinen en had ook zijn F-licentie nog gehaald met het morse examen. Maar een combinatie van seinen en de jeugd was helemaal fout. Hij hate de oude garde OM's die vonden dat je de jeugd nog moest vervelen met zoiets als seinen in een tijd van smartphones, digitale communicatie en Andre Kuipers die rond de aarde zweeft.
De ruimtevaart en contact maken met het ISS was iets dat de jeugd interesseerde!
Niet op een radio-markt of velddag met een tafel en daar achter oude mannen en seinsleutels op de tafel, hij kon zich daar flink over opwinden.
Chris zag in de jeugd nieuwe radio-amateurs en die interesseren, dat moest je op een moderne manier doen.
Natuurlijk is Chris bekend van de door hem ontwikkelde speciale Loopyagi <- klik.
Beste Chris, ik zal je blijven herinneren, vooral aan de interessante gesprekken die wij via de radio hadden en jouw liefde voor de hobby. Chris werd slechts 51 jaar.
Moge hij rusten in hogere radio sferen.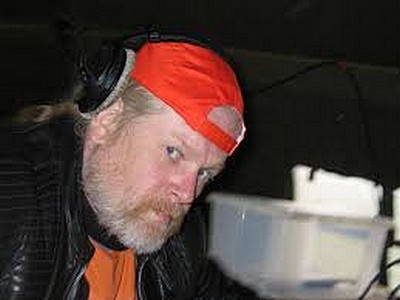 Bron foto: www.het-bar.net