Publishing date:
This article was originally published: January 4 2012
It may therefore be that some links do not work anymore.
Baofeng UV-3R Mark II specs:
Frequency Range: 136-174 / 400-470MHz
Dual-Band Display, Dual Freq. Display, Dual-Standby
Output Power: 2 Watts
99 Channels + 1 Emergency Channel
50 CTCSS and 104 CDCSS
Built-in VOX Function
1750Hz Burst Tone
FM Radio (87.0MHz-108.0MHz)
LED Flashlight
Large LCD Display
Hight /Low Power Switchable
25KHz/12.5KHz Switchable
Emergency Alert
Low Battery Alert
Battery Saver
Time-out Timer
Keypad Lock
Monitor Channel
Channel Step: 5/6.25/12.5/25KHz
Dimension without antenna L 47mm X W 81mm X H 23mm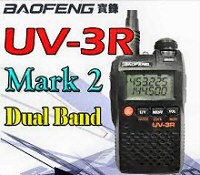 Unpacking:
After waiting 12 days, the Baofeng UV-3R Mark II came from Hong-Kong, together with the data-cable, an extra battery and a small car antenna.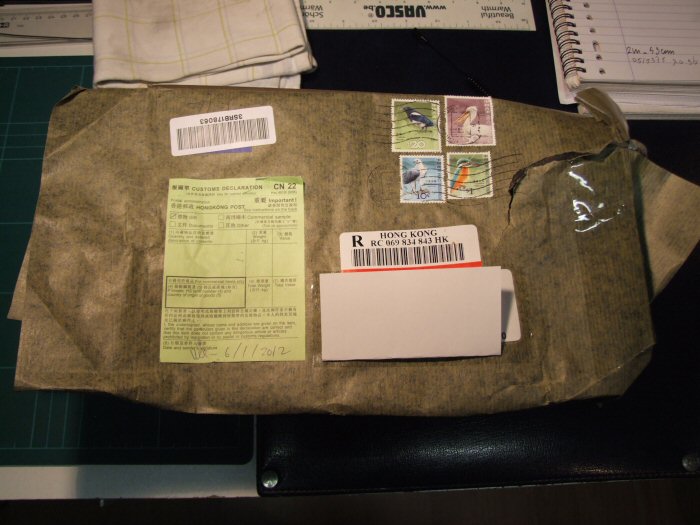 Nice postage stamps from Hong-Kong.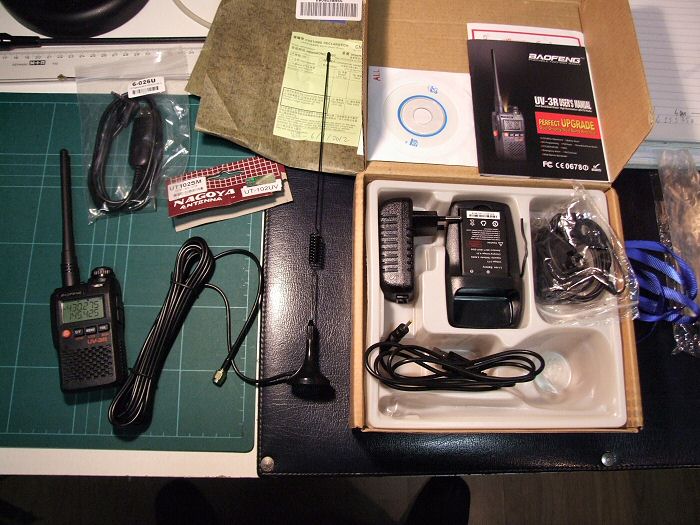 On the left the Baofeng UV-3R Mark II.
Video:

This video is found on the chrishoward9999's (call sign 2E0CTH) YouTube channel.
Direct link to the Software:
Attention:
The use of the software is for your own risk.
The software is not made by PA2OLD, PA2OLD is not responsible for any damage to your equipment.
Het gebruik van de software is voor uw eigen risico.
De software is niet gemaakt door PA2OLD en is daarmee niet verantwoordelijk voor eventuele schade aan uw apparatuur.
Links:
Do you have additional Info or do you have interesting mods or did you wrote a review, tell me through the mail.
I place all the information on the website with the source indicated.

Baofeng and the International Space Station or ISS.
This video is found on the MrEdTraveller (call sign 2E0MDO) YouTube channel.
Thanks to: PA3AMZ

MOD for the Baofeng headset
This video is found on the pasek888 (call sign SP3SWJ) YouTube channel
Thanks to: PE1BVQ
Baofeng Antenna:
Both the Baofeng UV-3R Mark II porto and the supplied original antenna, Model No.5-104, work well.
However, a fellow HAM (PE1BVQ) had another antenna, Model No.5-003SM-UV. According to PE1BVQ this antenna should work much better.
We agreed to test both antennas with an antenna analyzer at the next VERON club meeting.
Another radio amateur (PA3GGI) heard our conversation and he decided to test the 2 antennas with his SDR-Kits – Vector Network Analyzer from DG8SAQ.
Outcome measurements:
PE1BVQ took along his antenna, I mine and I added also a small dual band car antenna with a magnetic base, Model No.UT102UV.
The results of the measurements were surprising.
It turned out that my original antenna, the Baofeng Model No.5-104, peaks too high in the amateur bands: in the 2 meter band just below the 148 MHz and the 70 cm band just below 440 MHz.
The antenna from PE1BVQ, Model No.5-003SM-UV, works much better on the porto.
And this corresponds with our measurements: this antenna is well peaked in both amateur bands.
The car antenna was even worse: the 2 meter section peaks around the 158 MHz and 70 cm at about 450 MHz The latter was to be expected because with this small antenna on a car, 70 cm didn't work and 2 meter barely.
Bandwidth:
To some extent this can be explained.
The bandwidth of the Baofeng porto is so large (136-174 MHz, 400-470 MHz) that the car antenna is in the middle of that bandwidth.
Regarding the amateur bands, the original antenna of the porto peaks bit on the high side, but is barely usable.
It´s clear, that PE1BVQ´s antenna is suited much better for our amateur bands!
Translation: PA3AMZ
Baofeng Antenne:
De Baofeng UV-3R Mark II en het bijgeleverde originele antenne, Model No.5-104 werkt goed maar een bevriende amateur (PE1BVQ) had een ander antenne, Model No.5-003SM-UV dat volgens hem veel beter zou werken.
We hadden afgesproken om op de Veron clubavond de antennetjes eens te testen op een antenne analyzer.
Een andere radio-amateur (PA3GGI) hoorde ons gesprek en besloot een zijn SDR-Kits – Vector Network Analyzer van DG8SAQ mee
te nemen om het een en ander te kunnen bekijken.
Meetresultaat:
Zo gezegd zo gedaan.
PE1BVQ nam zijn antenne mee, ik het mijne en ook nog een klein dualband auto antenne Model No.UT102UV met magneetvoet.
De resultaten van de metingen waren verrassend.
Het bleek dat mijn originele Baofeng antenne Model No.5-104 te hoog in de amateurbanden gepiekt staat, in de 2 meterband iets onder
de 148 MHz en voor de 70 cm band iets onder de 440 MHz.
Het antenne van PE1BVQ Model No.5-003SM-UV werkte veel beter op de porto en dat klopte met onze metingen, dit antenne staat prima gepiekt in de beide amateurbanden.
Het auto antenne was nog slechter, het 2 meter gedeelte staat rond de 158 MHz en het 70 cm op ongeveer 450 MHz.
Dat was te verwachten want met dit antennetje op de auto werkte de 70 cm helemaal niet en de 2 meter nauwelijks.
Bandbreedte:
Dit is wel enigszins te verklaren.
De bandbreedte van de Baofeng porto is zo groot (136-174 MHz 400-470 MHz) dat het auto antenne ongeveer in het midden van
die bandbreedte staat.
Wat de amateurbanden betreft staat de originele porto antenne wat aan de hoge kant, maar nog net bruikbaar.
Het porto antenne wat PE1BVQ gebruikt is duidelijk veel beter geschikt voor onze amateurbanden!
Hyperlinks:
Baofeng UV-3R+Plus:
February 5 2012 – There is an new version of the Baofeng UV-3R and it is called the +Plus version.
Info from the 409shop site: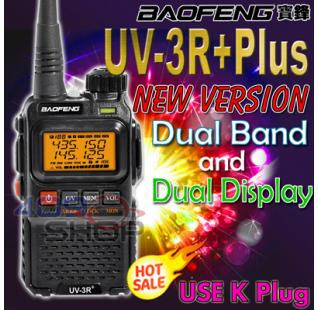 NEW BAOFENG UV-3R Plus 136-174/400-470Mhz
BAOFENG UV-3R The transcevier is a micro-miniature multiband FM transceiver with extensive receive frequency coverage, providing local-area two-way amateur communications along with unmatched monitoring capability.
For more info see: www.409shop.com
Source: www.brickolore.com
More on the Baofeng see this website: Baofeng page

The New Baofeng UV-3R+Plus
Special thanks to: PE1BVQ, PA3GGI and PA2AMZ.