Publishing date:
This article was originally published: August 28 2011
It may therefore be that some links do not work anymore.
Info:
This article is in the Dutch language, because I still did not write in the English language at that time.
Radio Luxemburg
Ergens eind zestiger jaren eens heb geëxperimenteerd met en stereo koptelefoon.
Ik luisterde toen 's nachts regelmatig naar Radio Luxemburg op de middengolf-band, 208 meter of 1439 kHz.
Om deze koptelefoon aan te sluiten aan mijn radiootje knipte ik de originele plug van de kabel en soldeerde er een mini koptelefoon plugje aan. Deze mini-jack plug was in die tijd nog niet in een stereo uitvoering te koop, de Walkman was nog lang niet uitgevonden.
Bovendien was mijn draagbare Philips radio natuurlijk niet stereo en al helemaal niet op de middengolf.
Ik wist dat je kon experimenteren met het in serie of parallel schakelen van de beide speakertjes in de koptelefoon.
Zo ontdekte ik dat je door een speakertje andersom, dus de plus en min om te draaien, aan te sluiten een vreemd soort geluid kreeg.
Hoe ik uiteindelijk de koptelefoon heb aangesloten, weet ik niet meer.
Websites Radio Luxemburg:
Terugdenkend aan Radio Luxembourg
The Story of Radio Luxembourg
Radio Amateur
Eind maart (2011) heb ik, na 13 jaar niet QRV te zijn geweest, de radiohobby weer opgepakt en vanaf eind mei kan ik ook op de HF of kortegolf-banden werken.
Luisterend naar amateurstations op de HF banden ontdekte ik, dat de verstaanbaarheid van sommige stations duidelijk beter werd, als ik luisterde met een hoofdtelefoon. Het geluid zit dan als het ware midden in je hoofd.
Dat herinnerde mij aan die tijd van Radio Luxemburg en het geëxperimenteer met een koptelefoon.
Zodoende kwam ik op het idee nog eens zo'n experiment te doen, met hoofdtelefoon en luidsprekers en eens te luisteren wat voor een
effect dat heeft op de verstaanbaarheid van de amateur stations.
Ik wilde kunnen schakelen tussen serie en parallel luisteren en het uit fase schakelen van een speaker.
Het is een simpel experimentje maar wel leuk om te doen en het kost praktisch niets.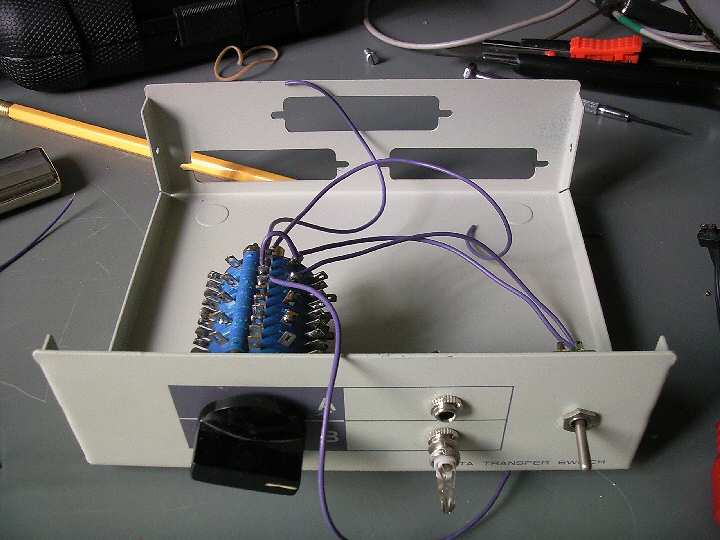 Hoofdtelefoon
De hoofdtelefoon werd aangepast, de stereoplug ging er af en ik soldeerde twee mono pluggen aan de beide draden,
zodat elke speaker z'n eigen aansluiting heeft.
In serie geschakeld lijkt het geluid breder het zit niet in het midden van je hoofd, wel is het iets zachter wat logisch is je hebt de dubbele impedantie van de speakertjes.
Parallel klinkt het geluid midden in je hoofd, het is geconcentreerder.
Bij uit-fase van een van de speakerjes is het effect heel vreemd, het laag valt weg wat te verwachten was en luisterend naar SSB is de verstaanbaarheid soms beter en soms minder, bovendien klinkt het nu breed een soort stereo effect maar dan mono.
Het lijkt op van die mono grammofoonplaten die later een zogenaamd stereo effect kregen, alleen de echo of galm is er niet.
Ik kan niet uitleggen bij welke signalen de verstaanbaarheid toeneemt of afneemt, gewoon proberen.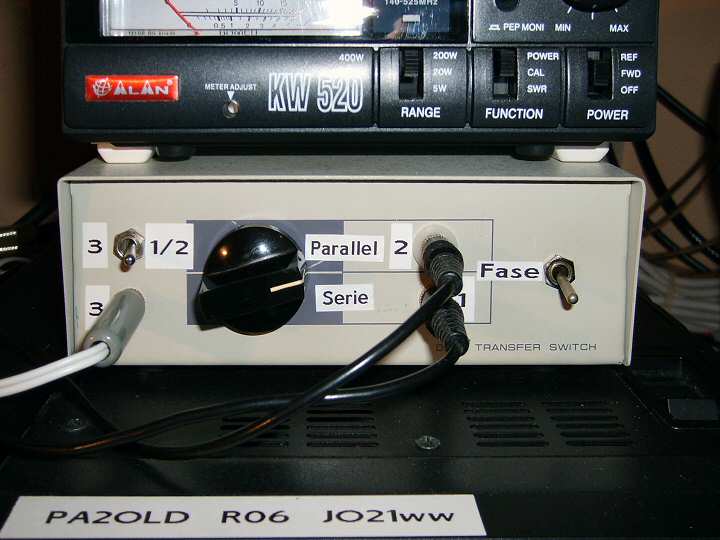 Speakers
Als test speakers gebruik ik twee gelijke Logitech THX speakers welke 16 Ohm zijn. Ze komen uit een DTS systeem en kwamen vrij toen ik de speakers heb ik vervangen door twee veel beter klinkende 3-weg systemen.
De twee Logitech speakers staan links en rechts van de radio.
In serie geschakeld is het effect wat bij de hoofdtelefoon te beluisteren is, namelijk het breder klinken, nauwelijks waarneembaar. Schakelend tussen serie en parallel is er verschil hoorbaar, maar het is minimaal.
Parallel klinkt wel als dat het geluid in het midden zit.
Bij uit-fase is het effect nog groter als bij de hoofdtelefoon. Het geluid lijkt van links en rechts te komen en veel breder dan dat de speakers staan opgesteld. Het laag of bas is bijna geheel opgeheven wat bij het beluisteren van muziek goed hoorbaar is.
De verstaanbaarheid van SSB stations is wisselend, soms is het beter soms niet.
Bovendien kan het uit fase en in serie luisteren een ruis onderdrukkend effect hebben, maar ook hier werkt het soms en soms niet.
Ik kan niet verklaren hoe dat komt.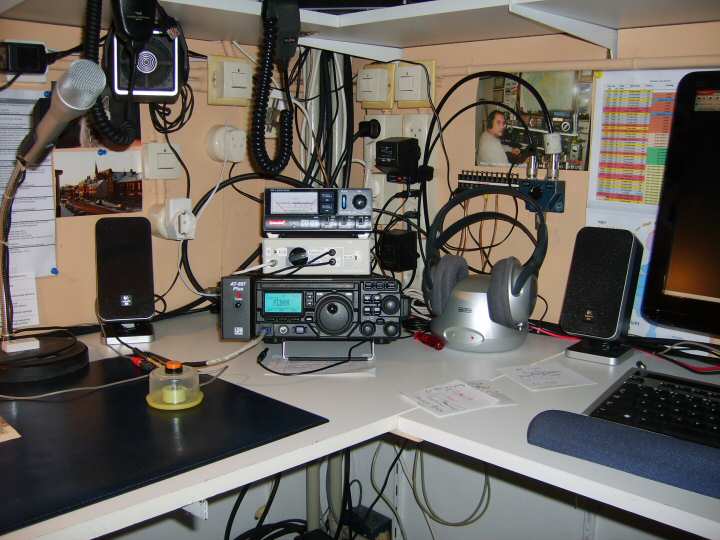 Tenslotte
Als laatste heb ik nog een extra aansluiting gemaakt voor een speaker die een wat ander klank karakter heeft en in FM ontvangst soms helderder klinkt.
Ik ga nog experimenteren met een filtertje om wat meer hoog uit de speakers te krijgen. Dat zal wel ten koste gaan van de sterkte van het audio signaal maar de radio heeft genoeg power om dat aan te kunnen.