Publishing date:
This article was originally published: September 12 2012
It may therefore be that some links do not work anymore.
AnyTone AT-588UV:
After the dismal performance and high price of Wouxun's dual band mobile radio, I'm excited to share information about the AnyTone AT-588UV. I have been testing this radio for a couple of weeks and I'm impressed. I think this will be the Chinese dual bander that takes the market.
Source: www.brickolore.com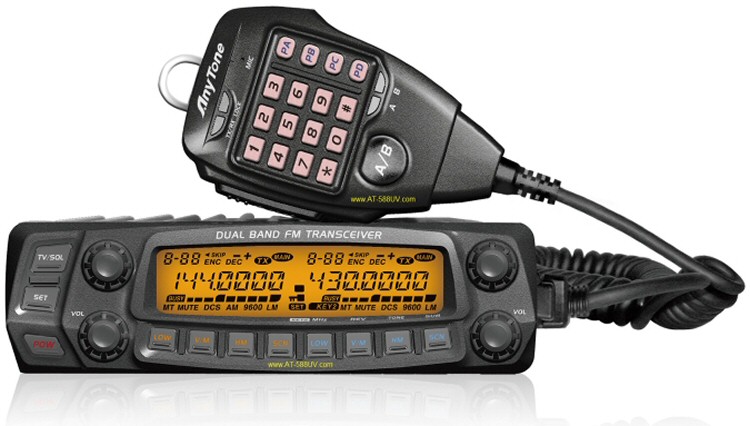 Features:
Receive Range: (FM) 134-174, 200-260, 350-400, 400-520 MHz & FM Broadcast (AM) 118-134 MHz (Air Band)
Transmit Range:(FM) 134-174, 400-490 MHz
Output Power: 50, 35, 10 & 5 Watts
Bandwidth: Wide (25 kHz) & Narrow (12.5 kHz)
Tuning Step: 2.5, 5, 6.25, 10, 12.5, 15, 20, 25 & 50 kHz
True Dual Receive – receive two signals at the same time or second side can be muted while transmitting
Separate Tuning Knob and Volume Control, each side
Separate Function Buttons, each side
Either side can be VHF or UHF at any time – VU, UV, UU, VV
Cross-Band Repeat (that works!)
Alphanumeric Display
4 x 256 Memory Channels
CTCSS, DCS, DTMF, ANI, PTT ID, 2Tone/5Tone Encode & Decode
Scrambler Option
DTMF Microphone
Detachable Control Head (CAT5 separation cable)
Computer Programmable
FCC Part 90 Certified
Websites about this radio:
The websites that did had information about the AnyTone AT 588UV are offline and therefore deleted here.